Responsemail
19th May 2015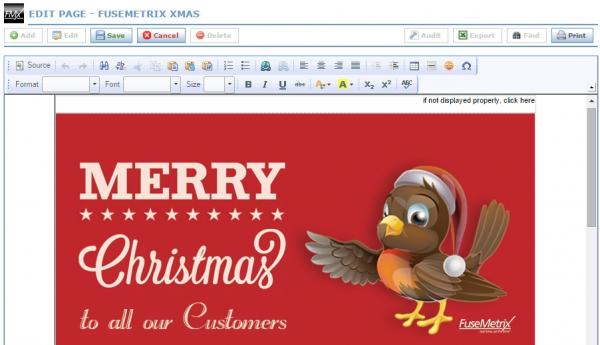 Email marketing is a real growth area for businesses just like yours - not only driving new business from new customers, but creating a virtuous circle of repeat business from existing customers. If you are looking for an all-in-one email marketing solution, are you aware that solution could be right in front of you?

Responsemail is Web Office Systems answer to all of your email marketing needs, and is built-in to the FuseMetrix platform as standard - you don't need to look anywhere else.
It is an excellent way of marketing your business and services to new, existing and past customers, keeping them up to date with all the important news from your business. Whether it's new product launches, special pricing, run-out offers, company or staffing news; If you want to keep keep them up to date with all the important things that are going on, look no further...

Responsemail offers a totally integrated solution for your needs: it is designed to use both the data you already have in your customer database, or imported data for business development. It handles bad addresses and unsubscribes seamlessly, and if you are using your customer database it even updates that as well. A full reporting suite means you can access information about your email campaigns in real-time, and have all the information you need to make business-critical decisions - and all the information is available for further analysis in your preferred spreadsheet application.

To start you off, you get 500 free email credits a month (1 sent email = one credit)... and further credits are easily and quickly available if you need more.

We have just re-aligned our email pricing - making it even better value! For one-off purchases, you can now get email credits for under 0.5p an email. Our new rates are:

1,000 credits for £10
5,000 credits for £35
10,000 credits for £70
25,000 credits for £150
50,000 credits for £300
100,000 credits for £500
250,000 credits for £1125
500,000 credits for £2000
You can get an even better deal by committing to a monthly subscription (with a minimum 12 month contract)

If you are considering moving your email marketing to us, or if you need help using the Responsemail module, then training is avaliable as well as on-going support.

Whatever you need, give us a ring.... or send us an email!